Instruction for solar street light Installation
Instruction Manual
2.1 Choosing Site
A. Choosing the best direction of lamp-house in order to receive the most solar energy.
B. The solar street lamp must be installed in the site with best sunshine and without tree shade or building shade.
C. It must have wonderful sunshine during 9:30am to 15:30pm.
D. It should keep distance from hot source, or its life will be shortened.
E. The solar panel should not be irradiated by other lighting in the evening, or it will not work because of receiving the wrong order.
F. There should have no other establishment (cable or conduit) underground the solar street lamp.
2.2 Groundwork Manufacture
A. Fixing the pre-buried part (Selection A)
Pass the four iron posts through the eyelet on the dead plate; keep the screw side of the iron post up; fasten the four screw caps; place the top dead plate finally. As following illustration:

B. Digging the Groundwork Pit
C. Cleaning and Conservation
a. Sealed both ends of PVC pipe in order to prevent debris or water into it. Clean the bolt with oil and clean the site.
b. Solidification process of concrete, it is necessary to regularly watering; after it is fully solidified (about 2 weeks), then install the street lamp.

2.3 Installation of Street Lamp
Check each component before installation: specifications, models,quantity and the appearance of the each component. It should be immediately transferred if there have discrepancy, but do not reluctantly construction.
2.3.1 Fixing Storage Battery
Pull the wire on battery from the up ground end of PVC pipe into the battery box, and connected is with the output wire of battery. Wrap round the link with insulation tape to avoid "+" touch "-", short-circuit will cause serious accident. Put the battery inside, cover it and screw down the water-proof plastic battery box with screw, then bury the battery box pit.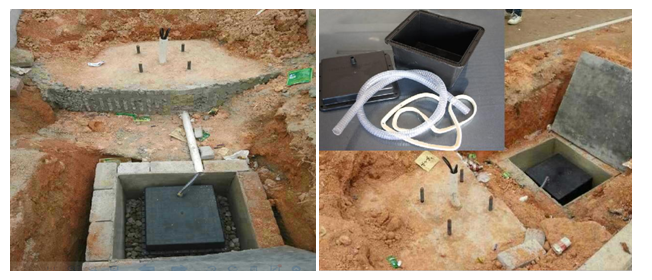 Remark:
² The conjunction between storage batteries must use bolt press in the battery terminal and adopt copper gasket to strengthen electrical conductivity
² The connect wire must be pulled through PVC pipe;
² The connection between PVC pipe and the waterproof plastic box must be sealed;