How long is life span of the solar street light system?
--Battery, LED and controller…
A. Battery
Our battery casing is designed specially for solar applications, advanced technology is used in the casing, insulation & waterproof of the electrodes are well considered, therefore no electricity leakage & water seepage when the battery is buried underground.
The life span of our battery is 5-8 years compared to 1-2 years from other vendors under normal operating conditions.
Gel battery: 8-12 years. The Battery is about 20% of total cost of the solar street light, changing the battery 5 times means buying another solar street light within 10 years.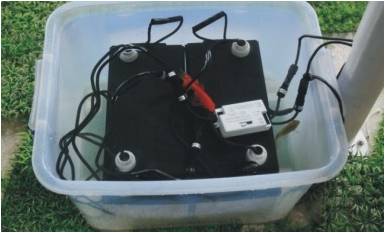 B. Led street light
Major problem with current high-power LED street light is heat sink, which results in light decay. Serious light decay: --45-55 ℃ V.S. 65-75 ℃
We choose low-power LED, our light decay is <4% within 10,000 hours.
The temperature rise of our low-power LED is within 20 ℃, while for high-power LED it's >40 ℃. Our LED's light decay is < 4% after 10,000 hours, 2-3% in real testing.
Our LED life span: >50,000 hours (to use 10hours per day), > 10years VS the other vendors' 3 years of LED lamp life!
C. Controller Life,
Capacitor is a indispensable device in the Constant Current Driver, its life span: <5 years.
Our SLD patent controller uses 4pcs of IC to replace the Constant Current Driver, so there is not capacitor in our controller. The main material of IC is silicone, so our controller has the same life as that of solar panel, 25-30 years.